MCIA programs are designed to help clients maximize value in four main areas.

Our Address:
1900 Hendon Ave
Saint Paul MN 55108

Toll Free: 1-800-510-6242
Organic Toll Free: 1-855-213-4461
Phone: 612-625-7766
Fax: 612-625-3748
mncia@mncia.org
What is seed certification?
Seed certification is an internationally recognized system to preserve the genetic identity and purity of crop varieties.
How is seed certified?
Seed certification requires planting eligible seedstocks, field inspection of the growing crop, proper conditioning, representative sampling, thorough laboratory analysis, and proper labeling.
Who produces certified seed?
Certified seed is produced by careful, conscientious growers, according to seed certification standards. Seed certification standards and procedures are available from MCIA.
Why buy certified seed?
Seed certification procedures provide the best possible third-party assurance of good quality seed of known identity and purity.
What should I look for?
For certification to be valid, buyers must be provided proof of certification. Seed containers must bear an official certification label. Bulk seed sales must be accompanied by a Bulk Seed Sales Certificate.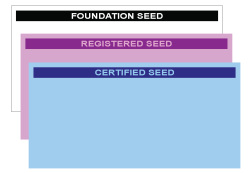 Click here to download an application